Sugar Free Ice Cream Info
Sugar-Free, Fat-Free Ice Cream
Whether you are staying healthy, watching your weight – or have health concerns that require you to modify your diet – you don't have to give up delicious ice cream treats!
At Lori's you can enjoy No sugar added/fat free soft serve ice cream, that is every bit as good as the original. We can also make all of the old favorites …Cones, Sundaes, Parfaits, Avalanches, Shakes, Banana Splits, Floats and Coolers. Even, a Lick 'Em Up favorite – our Boston Cooler.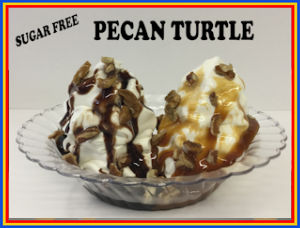 Lori also has a large variety of Sugar free toppings in order to make her Specialty Sundaes Sugar free! We offer a No sugar added fat free Brownie Delight, Hot Fudge Peanut Parfait and Pecan Turtle Sundae!
With over 12 Sugar free Avalanche flavors some of the favorites include Reese Cup, York Peppermint Patty, Chocolate Covered Cherry, Cookies 'n Cream, Mud Fudge,  and Chick–Stix (tastes just like butterfinger!)
Lori has also taken the time to make a packet of printed information with all the nutritional facts of the sugar free items for your convenience.
Check out the nutritional information below, and then head on into Lori's for a delicious No Sugar Added/Fat Free ice cream treat – completely guilt free!!
Ice Cream Harrison Macomb County